This is the third of four posts I'll be doing about places I visited on my holiday this year.
Upnor Castle is one you might not have heard of. All of the other places that we visited are fairly big on the tourist map, being situated in large towns/cities and having a bit of worldly sway to their names.
Upnor Castle however is a little bit harder to get to, right at the top of a hill, not obviously directly on Public Transport routes and with a bit of a walk from the Car Park. Once you get there however it's definitely worth the visit.
Upnor Castle was built on the River Medway to protect the Warships of Queen Elizabeth I which were anchored upstream at Chatham. A chain was installed which stretched across the River, during the Spanish Armada, and it could be raised in order to sink ships.
It was last used for action during the Dutch raid in 1667. From here the British Navy successfully repelled the Dutch invading forces, however it wasn't much after this that it started becoming difficult for ships to travel far up the River and as such Upnor Castle was effectively replaced by a new defensive position closer to the coast.
In 1668 the Castle was transformed into a Magazine, or a place where gunpowder is stored and tested to make sure it works correctly for the gun it's intended to be used with.
Upnor Castle is beautiful to look around, and although it's a military position it has more in common architecturally with the French and Italian Chateau's than it does with the Norman Motte's more common on the British Isles.
This is one of the photo's of me I like best. All time.
Have to say that we're very grateful to the lovely American guy who took this for us. Only picture we have together from the whole holiday.
I love the fact that from almost angle it has fantastic views of the river. Views which were a necessity.
This is a favourite shot of mine. I love how clear the sailing boats look even through the window.
And the best part? There's the most fantastic pub next door which serves up delicious and traditional British favourites to order at very reasonable prices. A very filling meal for 2 plus drinks came in at under £20!
Linking up to Tuesday Tips & Pics @ Live Love Travel.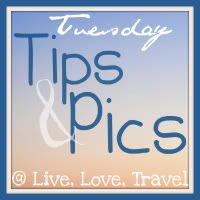 I promise I'll be done with these soon.